"Contemporary India: Talk Series": 2nd Talk "Indian Buddhist Heritage, Art and Contemporary Travel" held on September 27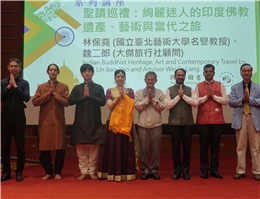 On September 27, the second Talk was held during this cool autumnseason, Emeritus Professor Lin Bao-Yao of the Taipei National University of theArts and Mr. Wei Er-lang, a consultant for Hero Travel Service were invited tospeak.
Before the talk began, a performance was arranged of Kathak dancing,which originates from northern India. A prelude to the opening ceremony, this classical dance was performed by You Wei-ting. In a lithe and enchanting performance, she told the story of how Prince Siddhartha became Buddha. Musical accompaniment was by Chu Li-chun on the sitar and Kuo Pin-yuan on the tabla.The opening ceremony then began in this atmosphere of rich Indian Buddhistdancing.
ITA Deputy Director Song Youren stated in his remarks: Contemporary India:A Series of Talks hope to help attendees get to know India through variousaspects and angles. This second talk aids attendees in gaining a deeperunderstanding of Buddhist heritage and art in India. It is a great honor tohave Dr. Lin Bao-yao and Mr. Wei Er-lang, who have both traveled extensively inIndia, to aid attendees better understand contemporary India through their deep understanding of various places in India. Also, we are very grateful to have this opportunity to cohost this talk series with National Central Library. Itis our hope that after hearing the talk today you will better understand Indian Buddhism and even travel to India in the future.
Emeritus Professor Lin Bao-Yao and Advisor Wei Er-Lang spoke on Indian Buddhist Heritage, Art and Contemporary Travel. Mr. Wei is currently aconsultant at Hero Travel Service in Taipei. Between 1978 and 2014, he traveled to the Eight Great Places of Buddhism a total of 108 times and accumulated 42years of experience traveling to India. Professor Lin earned a Ph.D. in Art from the University of Tsukuba in Japan. In 2014, he became an emeritus professor of Taipei National University of the Arts. During his tenure there, Dr. Lin he traveled extensively to India and other countries in Asia, doing field work on art in Indian Buddhism.
Professor Lin and Mr. Wei explored in their talk the continuity and conservation of rich diversity in Indian Buddhist art. The talk traced the life journey of Buddha through 8 world famous sacred Buddhist sites in India. The main focus was the cultural preservation of Buddhist artifacts in contemporary India in museums in Kolkata, Delhi, Mumbai, Mathura and Sarnath. In addition, they spoke on the UNESCO World Heritage sites related to Buddhism in Indiaincluding Caves and Stupas.
The two speakers have traveled to India many times and shared some of their extraordinary experiences with the audience. Not only were the audience members treated to a feast of knowledge on a fall afternoon, but also were treated to a Q&A session before the activity came to a perfect close.