Ambassadors from Ally Nations Visit NCL Together to Promote Cultural Exchange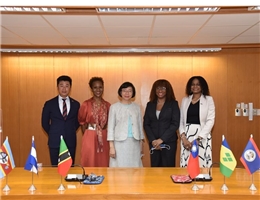 Ambassadors from Four Diplomatic Allies Pay a Visit, Focus on Cultural Exchange and Development

In an effort to promote reading and cultural collaboration and exchange, on April 6, 2022 at 10 am, a diplomatic mission from four ally nations led by H.E. Ambassador Jasmine Elise Huggins, H.E. Ambassador Jasmine Elise Huggins, Embassy of Saint Christopher and Nevis, comprised of H.E. Ambassador Dr. Candice Augusta Pitts, Embassy of Belize, H.E. Ambassador Andrea Clare Bowman, Embassy of Saint Vincent and the Grenadines and Director of Trade and Investment Promotion Section, Achilles Yeh, Embassy of the Kingdom of Eswatini came to visit National Central Library Director-General Shu-hsien Tseng. They also discussed cultural and educational issues in a forum, as well as toured National Central Library.

In the forum, Director-General Shu-hsien Tseng welcomed everyone, following which the head of the Taiwan diplomatic mission, Ambassador Huggins, spoke. Then the ambassador from Saint Vincent and the Grenadines represented the group—including Honduras—in presenting a proposal on cultural collaboration and exchange.

Director-General Shu-hsien Tseng stated that National Central Library is very honored to be a solid partner with each embassy in reading promotion and cultural exchange. Functioning as an exchange platform to help the people of Taiwan come to know these countries' cultures, NCL will continue its close working relationship with each embassy and plan together various art and cultural events. These will help directly showcase the unique cultural content from each country and provide the public with a rich cultural smorgasbord.

NCL houses dissertations and theses by students from ally nations, including one by the prince of Eswatini

After the forum, National Central Library arranged for a tour for the VIPs of the facilities and resources on each floor of the library. A specialist for each area was on hand to provide explanation. During the tour, not only did they visit the rare books room which houses many national treasures and ancient books, they also walked through NCL's ancient book exhibition "The Great Yuan: Mongolian History and Culture" and the interactive School Days exhibit that incorporates 100 years of Taiwan education history. In addition, National Central Library made special arrangements for displays of books and other materials related to the five friendly nations, comprised of four main sections: dissertations and theses, general books, donated books, and maps. The dissertation and thesis section primarily displayed research done by students from those countries who studied in Taiwan. Topics include farming, forestry, fishing, animal husbandry, business management, medicine, public health, sustainable development, economic development, and international studies. In the general books section were books published in these countries. In the donated books section were books given to the president of Taiwan by these countries. The map section showcased maps from these countries. It is worth noting that master's thesis of Prince Buhlebenkhosi Dlamini, who once visited NCL in 2016, as well as a book he co-authored with Shih Chien University professor Ying-feng Chen entitled Yes Eswatini, the first book on Eswatini in Chinese, were also on display.

The ambassadors were deeply impressed with NCL's rich scholarly resources and special collections. It is also hoped that the forum will lead to smoother future collaborations between all parties, as well as provide even more opportunities for exchange and interaction. This way, the good collaborative relations currently enjoyed can continue.