2016 Dragon Boat Festival Luncheon for Visiting Foreign Scholars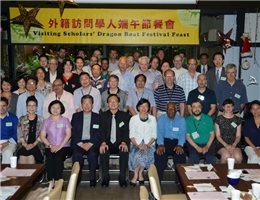 To celebrate the Dragon Boat Festival, the Center of Chineses Studies (CCS) invited the recipients of the CCS "Research Grants for Foreign Scholars in Chinese studies" and "Taiwan Fellowship" offered by the Ministry of Foreign Affairs (MOFA), for a lunch on June 6. This allowed them to experience Chinese traditional festivities and folk culture besides making their respective research. 42 scholars and their families participated representing 21 countries.
The CCS prepared food and dishes related to the festival such as meat rice dumplings, lychee fruit and many other delicacies. The origin and significance of the traditional Dragon Boat Festival in Taiwan was also introduced. Many scholars also shared their talents: Terez Vincze, Assistant Professor from Hungary, Lorand University in Budapest, lead everyone to sing traditional Hungarian songs; Professor Yer Jeff Thao from Portland State University performed Jew's Harp which is a traditional musical instrument of the Atayal (Taiwan aborigines); Professor Daniel Sorichette from Champagnat University, Argentina performed a tango dance. It was an occasion for scholars to have a better understanding of each other and to exchange and share experiences of their research and life in Taiwan.