Ceremony Held to Mark the Donation of Fangge Dupan's Manuscripts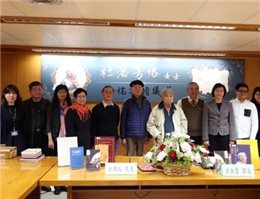 On February 24, 2017, a ceremony was held to mark the donation of author Fang-ge Dupan's manuscripts. The National Central Library was presented with over 340 of Dupan's manuscripts, written in Japanese, Chinese, and Hakka.
Though Dupan regularly practiced Japanese composition during her time at Hsinchu Girls' Senior High School, it was not until 1960 that she began writing Chinese poetry, publishing her first collection in 1977. In the 1980s, Dupan began to actively write poetry in Hakka, and from the 1990s, a large body of her work was published in collections such as Chaoqing. In 2007, she received the Award for Outstanding Contribution from the Hakka Affairs Council, and the Award for Contribution to New Taiwanese Literature from the Council of Cultural Affairs.
After the ceremony, the guests of honor visited the NCL's Special Collections. They were especially moved to see the kind of proper care given to the manuscripts housed there. Upon seeing these manuscripts, poet and painter Fang-tzu Chang said that it was like seeing many people and stories, and that everybody ought to support the donations.