NCL and Lam Research Co-host the Reading is Cool Carnival and Book Donation Ceremony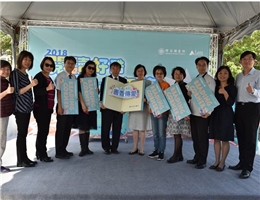 The Reading is Cool Carnival and Book Donation Ceremony, jointly hosted by the National Central Library (NCL) and Lam Research, took place on October 20, 2018, at Hsinchu Cultural Affairs Bureau Water Plaza. NCL and Lam Research together selected six elementary schools in the Hsinchu area to each receive a donation of 100 English-language books. In addition to the books, each school was given their own special bookshelves through the Sharing Love Through Books scheme to help them create a comfortable English reading corner in their school library. The aim of the donations was to provide effective encouragement to children to study English as early as possible in their education.
In her speech at the event, NCL Director-General Ms. Shu-hsien Tseng remarked that the smooth rollout of the Sharing Love Through Books scheme was thanks to the strong support of Lam Research in establishing ample English reading resources at schools. In his remarks, Mr. Daniel Liao, President of Asia Pacific Operations at Lam Research, reviewed his corporation's partnership with the NCL on reading promotion. Since 2016, they had worked together on themed activities such as Reading for the Four Seasons, World Book Day, and the Hsinchu Masters Lectures. This year the two organizations had extended the scope of their cooperation in promoting English reading. He expressed the hope that Sharing Love through Books would enable children to begin exploring the world through books from an even younger age.
After the book donation ceremony, the Books are Cool Carnival began. The carnival featured wonderful English reading-related activities for the public, such as a picture book story village, English music party, English game area, activities to help break through reading barriers, and also a bookstall area.