NCL Strives to Expand TRCCS Sites Worldwide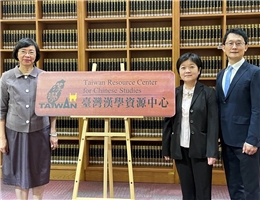 NCL sets up its first TRCCS in the European Union member state Slovakia. This was done by creating a collaborative relationship with the country's famed house of learning, the top University in the country, Comenius University (CU). This is NCL's 41st partner in the world. Discussions on the collaborative endeavor spanned six months. During this time, assistance was given by Hung-Wei Yen, the head of the technology division at the Taipei Economic and Cultural Office in Prague. He ensured smooth discussion between both parties.
The Comenius University library system includes 13 libraries scattered across the campus and even off-campus. These are all under the governance of the Academic Library Centre. The TRCCS was established in CU's Faculty of Art Library because the Department of East Asian Studies is part of that faculty. In 1988, the East Asian Studies department added Chinese studies. It is the only university in the country that offers both an undergraduate and master's degree in Chinese studies. The department started the international periodical Studia Orientalia Slovaca in 2002. After 2010, this periodical began publishing two issues and including cross-discipline articles on East Asian studies.
In responding to the teaching and research needs of Chinese studies, the library's holdings have Chinese books, as well as books and periodicals published in Western languages. Topics include history, literature, economics, politics, art, and language. NCL Director-General Tseng stated, CU is an important house of learning for Chinese studies teaching and research in Slovakia. Its diligence and contributions via its internationally known periodicals and publications led to the signing of this collaborative agreement. This will allow Taiwan's achievements in scholarly research to become a resource in the teaching and research of this great institution.