Entering Northern Europe: NCL's First Taiwan Resource Center for Chinese Studies in Denmark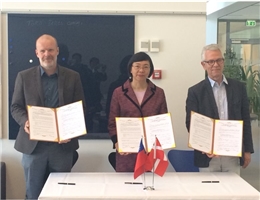 On May 16, 2018, National CentralLibrary Director-general Tseng Shu-hsien, Nordic Institute of Asian Studies (NIAS) Director GeirHelgesen, and the University of Copenhagen's Cross-cultural and RegionalStudies Department Chair Ingolf Thuesen signed a three-way agreement for TaiwanResource Center for Chinese Studies and held a ceremony marking the occasion. This is the first TaiwanResource Center for Chinese Studies in Denmark and northern Europe. Sincestarting the TRCCS project in 2012, this is the 27th center to be established.
The University of Copenhagen was established in 1479, makingit one of northern Europe's oldest universities. It is also the largesteducation and research institution in Denmark, with abundant collections onAsian studies and Chinese studies. NAIS was established in 1968 and became anindependent scholarly institution in 2005. Housed in UC's Department ofPolitical Science, its mission is to follow cultural and social changes inmodern Asia and to promote cross-disciplinary studies on politics, economics,and business in Asia.
NAIS and the Universityof Copenhagen's Faculty of Social Science Library have enjoyed a long-termcollaboration, housing northern Europe's largestcollection of books, periodicals, and electronic resources on modern Asia. Itis one of the most important hubs for northern European scholars to conductresearch on Asian studies. NCL will establish a Taiwan Resource Center for Chinese Studies in it toprovide books and databases in English and Chinese published in Taiwan. In thefuture, it will also be a venue for Taiwan Lectures on Chinese Studies,exhibitions, and other scholarly events. The far-reaching and positiveinfluence on promoting Taiwan studies and Chinese studies and the increasedcollaboration opportunities with important universities and researchinstitutions in northern Europe will be great.